Inclusive & Accessible Yoga
Inclusivity is at the heart of all we do, we believe Yoga should be accessible to everybody, no matter the age of ability.
We offer several sessions that are open level and accessible to members of our community who may be limited in other sessions.
Chair Yoga
Thursdays 11:15-12
£5 per session
A fully chair based sequence with minimal physical exertion, but techniques and movements to help stimulate and restore your body, especially those with decreased mobility, the elderly, those with motor impairments and those recovering from injury.
What to Expect
Yoga can be extremely beneficial for people with mobility issues, chronic pain and disabilities, and this class aims to improve strength, flexibility, reduce stress and relieve pain, all from the comfort of a chair.
Who Can Attend?
Chair Yoga is open to everyone! We welcome all ages and abilities including those in wheelchairs.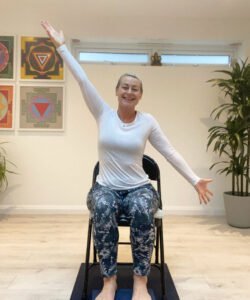 ---
Kids Yoga – provided by Access Sport
Wednesdays 16:30-17:30
£3 per session
Kids classes at Calm Collective help to make Yoga & Mindfulness fun & inclusive for all.
In these sessions we encourage imagination, playfulness & creativity while exploring Mindfulness & Yoga through games, songs, dance & stories.
What to Expect
Movement, play, creativity and more!
Who Can Attend?
For D/deaf, Disabled and Neurodivergent children aged 6-16 and their families.
To sign up to this class, please use this form: Kids Yoga Sign Up Form
---
Restorative Yoga
Mondays 20:00-21:00
Included in regular class prices
Restorative yoga is a relaxing and floor based class to relieve the effects of stress and to aid in total relaxation. The class is often practiced in candlelight and features guided meditation while in poses
What to Expect
Floor based Yoga poses that involve props which allow you to deepen into your relaxation as you are supported and able to let go and be free from physical tension
Who Can Attend?
Restorative Yoga is a floor based session, so the attendee will need to be able to comfortably move to the floor at the beginning of class, and stand up at the end. Assistance is available, but complete transfers from chairs unfortunately cannot be provided.
---
Sound Baths
Monthly (please refer to workshops page for more information on dates)
Priced per event
Sound Baths are a powerful experience wherein you are bathed in the sounds & vibrations of crystal bowls, chimes, singing bowls and other instruments that will take you on a healing journey This powerful experience creates space for healing on multiple levels, which often leads to a deep state of relaxation
What to Expect
Relax, unwind and heal on multiple levels as you rest for the entire sound healing journey.
Who Can Attend?
Sound baths are open to all, and include no movement or transfers. Wheelchair users welcome.
---
Meditation
Online Guided Meditation, Free, every Wednesday & Friday 8am
Meditation & Mindfulness Courses (please refer to workshops page for more information on dates)
Priced per event
Sessions to help you dedicate time for self-development and stillness, including inspiring discussions, activities and ways to take care of your mental health.
What to Expect
Meditation within a safe, relaxed environment. Sometimes we will work with tools such as guidance cards, crystals and sound therapy instruments.
Who Can Attend?
Meditation sessions are open to all, and include no movement or transfers. Wheelchair users welcome.