Yoga Alliance Accredited Teacher Trainings; CPDs & 200 Hour Courses
Creating a new wave of inclusive instructors
November 2023: Accessible 28 Hour Training | February 2024: 200 Hour Teacher Training | March 2024: Hot Yoga 40 Hour Training
200 Hour Teacher Training
2024 6 Month 200 Hour Teacher Training

February: Thursday 1st, Friday 2nd, Saturday 3rd, Sunday 4th
March: Saturday 9th, Sunday 10th
April: Saturday 6th, Sunday 7th
May: Saturday 4th, Sunday 5th, Monday 6th, Saturday 25th, Sunday 26th
June: Saturday 22nd, Sunday 23rd
July: Friday 19th, Saturday 20th, Sunday 21st
Cost: £3000
Early Bird (sign up before 30th September): £2700
Deposit: £650
Payment plans to suit all needs, payments must be completed by 15/01/2024
Register your interest and complete our application and eligibility form below, you will be contacted via email to confirm your space if accepted onto the course. Deposit is due if application is successful.
Calm Collective's Yoga teacher training course is designed for individuals who want to deepen their understanding and practice of Yoga, and gain the knowledge and skills needed to become a certified Yoga instructor. Our course will help you become a confident and compassionate Yoga teacher, dedicated to serving your students and creating a positive impact in your community.
We believe that Yoga should be accessible for everyone, regardless of age, ability, or background. Our experienced instructors will teach you how to create safe and accessible classes for all levels, so that everyone can experience the gift of Yoga.
Expand your awareness and understanding of a functional approach to yoga postures and how to sequence a class accordingly for all bodies. You will gain a deeper awareness of your own yoga practice and any physical or mental limitations cultivating a greater sense of empathy.
The course covers Yoga's origins and how the practice has evolved over time to ensure an authentic and appreciative comprehension of the history and philosophy of Yoga. Throughout the course you will be taught various yoga techniques and teaching methodologies such as Pranayama, Meditation and using the Sanskrit language.
Become an empowered, compassionate and inclusive instructor with Calm Collective, deepen your connection to the practice of Yoga and share the benefits with a diverse reach of students, bringing Calm to your Community.
The training is led by Tracy Barber, Studio Founder and Nina Rashid, who are registered as trainers and senior teachers at Yoga Alliance Professionals. This course is accredited by Yoga Alliance Professionals .
Course Outline
Asana
• Postures
• Adjustments
• Using props
• Anatomy & Physiology

History & Philosophy
•Paths of Yoga
•Yoga Sutras of Patanjali
•Eight limbs of Yoga
•Ayurveda
•The Subtle Body
Accessibility & adjustments
• Adapting the practice to suit all
• Working with injuries, limiting conditions
• Elder community
• Mental Health
• Incorporating Chairs

Yoga Methodologies
• Pranayama
• Meditation
• Mantra
• Sanskrit

Teaching Yoga
• Sequencing
• Language
• Beginners to advanced
• Different styles

Personal Development
• Yoga in business
• Diversity & inclusivity
• Creating a safe space
Course Details
Accreditation: After successful completion of the training, coursework and exams, you will be registered as a Yoga Alliance Professional 200Hour Yoga Teacher.
Pre-requisites: You must have a minimum of 1 years regular practice.
Attendance: Its a requirement of the course to attend all sessions, however 2 days are allowed to be missed in significant emergent cases.
Course location: 190 hours of the course will be held in our Sidcup & Bexley studios, 10 hours will be done online. You will receive all timings and location information closer to the start date.
Exams, Coursework & Further Learning: Once your application is approved, you will be sent a list of required reading and further learning, which should be reflected upon before the course start date and between training dates.
Coursework will be given after each training weekend and you will have theory exams and a practical exam at the end of the course.
Deposit & Payment Plans: If your application is successful you will be sent an invoice to pay the deposit of £650 which will confirm your space on the training.
We will work with you to figure out a suitable payment plan that fits your needs, with final instalments due before the 15th January 2024.
All payments are non refundable – please refer to our Teacher Training T&Cs for more information.
Bursary & Scholarship: We offer 1 bursary discount and 1 free space on our 200 hour course. The bursary will reduce the cost of the course by 50% and the scholarship space is free.
To apply for the bursary or scholarship please complete the application form, and email [email protected]
Please let us know why you feel you should receive the 50% discount or the full scholarship.
Application deadline: 01/09/23
---
CPDs – Continued Training for Teachers
Accessible Yoga 28hour Training
In person & online
Dates: Saturday 4th & Sunday 5th November 2023
Time: 08:00-18:00
Cost: £300
Early Bird: £25 EARLY BIRD DISCOUNT: £275 UNTIL 31/08/23
Payment Plans: Pay in full, or split into 2 payments (choose payment plan option when booking)
20 contact hours & 8 Hours of pre-recorded online resources
This course will also be streamed online for those unable to make it to the studio in person
(please choose online course when booking if you wish to attend the course virtually)

Calm Collective's Accessible Yoga 28 Hour Training is designed to empower Yoga teachers with the skills and knowledge to cater to individuals of all needs including working with people with disabilities, injuries, illnesses and various mental or physical limitations. We believe that Yoga is for everyone, and through this training, we aim to create a more inclusive and welcoming Yoga community.
In this training, we will focus on the principles and practices of inclusive teaching and will explore how to create a safe and supportive environment for all students. You will learn how to modify and adapt yoga poses, sequences, and breathing techniques to accommodate diverse needs and abilities, as well as learning how to use props and chairs to support students in sessions.
We will delve into using empowering and respectful language that acknowledges and celebrates individual differences while avoiding stereotypes and assumptions.
Over the course you will cover specific and generalised physical conditions and how to work with students who may have limited mobility, such as pregnancy, limb differences, arthritis, injuries, larger bodies, fibromyalgia, and those living with cancer or other chronic illnesses. You will gain insights into modifying postures and creating variations to ensure accessibility for all.
You'll also expand your awareness on the unique challenges faced by individuals with mental conditions such as neurodivergence, trauma, and anxiety; we will explore sensitive and supportive approaches to create a nurturing Yoga practice for mental well-being.
Our experienced and compassionate teachers have extensive experience in teaching Yoga to individuals with diverse abilities and will guide you through this transformative journey for 20 in person hours, and you will receive 8 hours of online resources.
Upon completion of the Accessible Yoga Teacher Training, you will be equipped with the tools and expertise to confidently teach Yoga to individuals with a range of varying needs.
You will become part of a growing community of like-minded Yoga teachers committed to promoting inclusivity in Yoga. The support and collaboration within this community will continue beyond the training.
Together, we can create a more inclusive and accessible Yoga space where all individuals can experience the transformative benefits of Yoga.
Join us on this journey to make Yoga truly for everyone.
Pre-requisites:
A minimum of a 200hr certification is required for this course.
Lead Teachers:
Nina Rashid & Tracy Barber, with special guest lecturers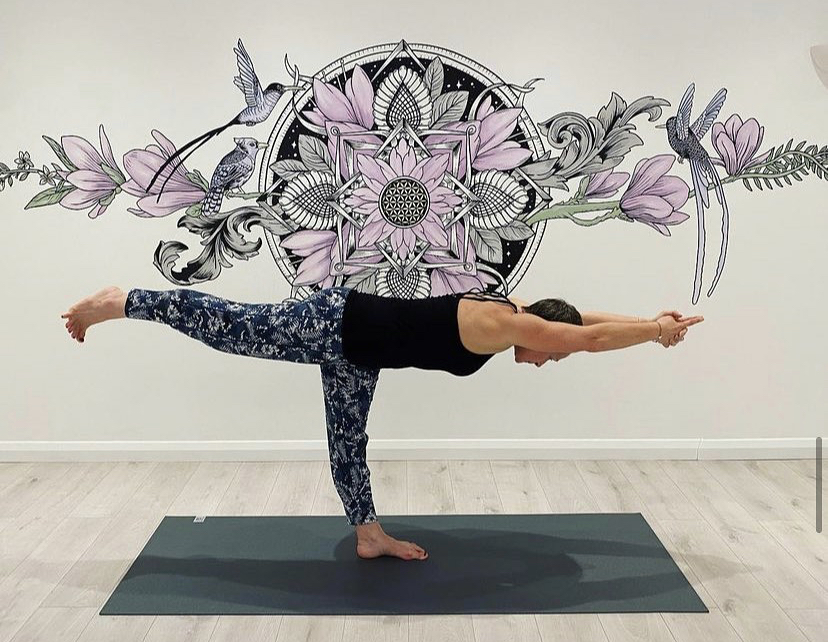 Hot Yoga 40hour Training
Dates: Friday 22nd, Saturday 23rd, Sunday 24th & Monday 25th March 2024
Time: 08:00-18:00
Cost: £375
Early Bird: £45 EARLY BIRD DISCOUNT: £330 UNTIL 31/12/23
Payment Plans: Pay in full, or split into 2 payments (choose payment plan option when booking)

Learn to teach an inclusive hot yoga class in this 40-hour training for yoga teachers.
In this 4 day Immersion you will be taught the traditional 26 postures and 2 breathing exercises that make a static Hot Yoga class.
You will learn the skills and knowledge to safely and effectively teach a more inclusive variation of a traditional static hot class and create an accessible space for students of all abilities.
You will cover the history of hot yoga, how to use your voice to create a calm, focused environment in a hot room, modifications and contradictions to postures and pranayama, as well as develop your own practice.
The Calm Collective hot yoga method is a 75 minute class practiced in 33-39 degrees, including a 10 minute savasana to aid the body's assimilation and repair process. The poses are static and follow specific timing principles. The heat provides a safe place to stretch the muscles and warm up the body by bringing fresh, oxygenated blood into every part of the body, cultivating strength, flexibility and balance, both mentally and physically.
The skills learned over the duration of this course will be transferable to all forms of Hot Yoga, enabling you to teach in a Hot room in a safe and inclusive way.
The training is led by Tracy Barber, Studio Founder and Nina Rashid, who are registered as trainers and senior teachers at Yoga Alliance Professionals. This course is classified as a further training by Yoga Alliance Professionals and will count as accredited learning hours towards your yoga teacher trainings.
Pre-requisites:
A minimum of a 200hr certification is required for this course.
Course Content:
Daily practice of the CC Hot sequence
The History of Hot Yoga, 26 + 2
How to work with injuries
How to modify the CC sequence and offer variations of the set poses
Anatomy and physiology of CC hot class
In-depth asana labs to explore alignment principles for the hot poses
Voice technique, teaching in the heat, caring for students in the heat.